To the first report of Ghibli MUSEUM.

Report of the Ghibli Museum wall painting, Upward Draft II

Painting in January 2002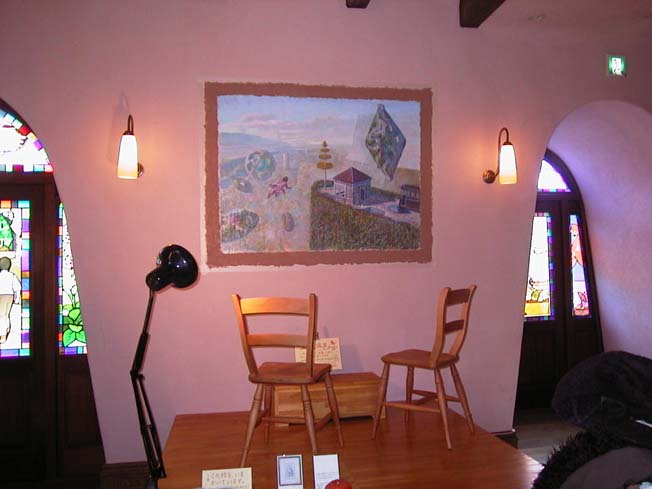 Painting still in the process of production in the main hall of the museum.
Click here for an enlarged version
Mr. Miyazaki Hayao requested something similar to Upward Draft (which Mr.Miyazaki Hayao purchased a couple of years before) to be painted, and so the new painting has been named Upward Draft II.

Here is the original Upward Draft painting.



Painting in August 2002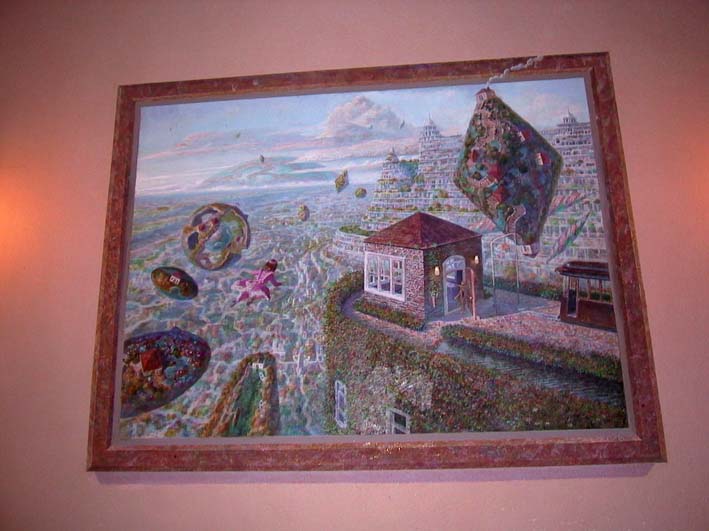 A portion of the picture enlarged
Another area enlarged
It looks as if a ladybug is crawling up the frame of the painting.
However, the frame is not a real frame, it is part of the painting!
Even the smoke from a house rises onto the frame!



New project! Mr. Inoue paints on yet another wall in the main hall!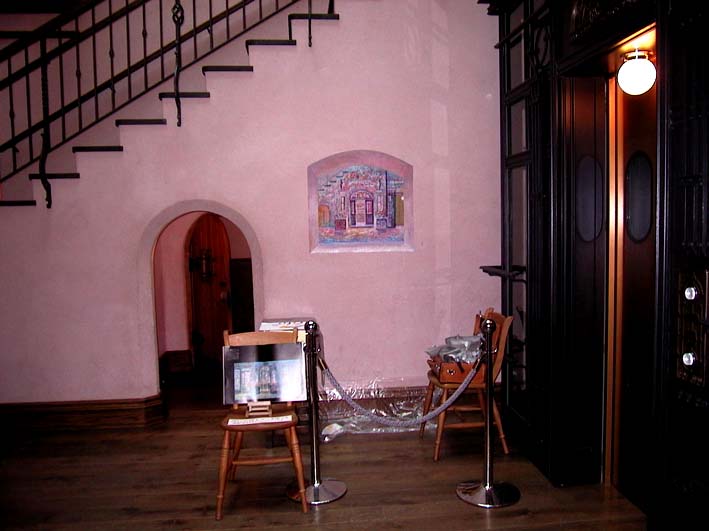 It looks as if there is a window in the wall and a house outside of it!
Enlargement
It is a painting which is similar to one used in a scene from Whisper of the Heart.
Mr. Inoue Naohisa, painting in front of museum visitors. The blue costume is for official museum staff.


Mr. Inoue will continue to visit the Museum from time to time, and whenever he does, he plans to paint a little something! If you ever come across him please do not hesitate to say hi! He loves chatting to guests. It`s amazing how he can talk and paint at the same time!


Other pictures
Enlarged image of the right side of the painting
Mr. Inoue in a Ghibli costume
An attraction which is not on the Menu??
gMr. Inoue? Oh yes, his office is beside the elevator.h
Enlargement: the top of the hill is a lake with a small port for the boats!
Unexpected host! Barron welcomes us to Iblard.
Enlargement: a tram and detailed stones.
Children watching and looking as though they are looking at a magician.




Photography: Maya
Editing: Fukuoka